Got to keep this super quick, but wanted to put the scoreboard up on this. As I have written before, last month I made about $6,000 in a week or so playing this beat down. This is HIGH RISK and NOT FINANCIAL ADVICE. I am documenting what I'm doing so someone can look over my shoulder and play along. I went through this in more detail in my recent Palisades interview, but I'm going to touch on the basics here.
Monthly metals options expire near the end of the month. 4th last business day, except it can't be a Friday or holidays. This month it was the 23rd (today) at 1:30.
About a week or so before this, you start to see metals being attacked with cliff drops on weak news.
You could go to the CME website and look at how many contracts the bank sold to people for the calls.
The same banks that sold the calls, are then going in right before options expiration and papering the market with sell orders on contracts. Often, this can be half a yearly mine supply sold in a day.
These banks that sold the contracts shape the price to knock down all of them and pocket all of the premiums they just sold at.
After this, there's a "recovery" period that usually starts soon after the beat down. I try to buy call options on mid tier miners at this time to get profit targets of 30-50% and get out. I use the charts for the miners to anticipate about when the selling will start.
Usually, I wait for a green candle to buy these. This month, I decided to jump in about an hour or so before options expiration as miners had held up tremendously well given we just lost $100 in gold and $2.10 in silver in a week. The only real news was J Powell was re-appointed for the Fed chair. Yes, Brainard would have been better for gold and silver, but this sell off tries to make it look like Powell is Volcker. He most certainly is not that.
At the same time, we have FOMC minutes tomorrow at 2PM right before Thanksgiving and low volume trading. It seemed there were a lot of diamond hands with miners. Likewise, when the next CPI print hits, we are potentially dealing with even higher inflation as rents start to get added into it. Apparently, this is a rolling number and only 2 months out of 12 have been counted, so as this moves on over months, the 24% YoY house price increase may start to creep in this – even as other things might fall a little.
Meaning, even if this beat down drags on through next week, I think there's somewhat limited downside yet. Obviously, no one has a crystal ball, but let's look at what the charts now look like. I saw a 3rd touch to a line for gold and it now appears to be a nice trend line.
It's hard to see here – but you can see a line I labeled as "Op Ex Price" which was the price line at 1:30 PM. The X above that is where I had bought the options below (most of them) over lunch. What I did was play some poker holding pocket kings. The house could be holding aces, so there is RISK HERE.
With silver, you don't have the pretty line, but we are tracking the $2.10 bear down, and this looks to be a higher low. IF IT HOLDS
Instead of waiting for a green candle tomorrow, Friday, or next week – I had been looking at what options I wanted to buy for days leading into it. WPM hadn't lost a ton on the RSI, and AG did lose a lot of RSI, but the options seemed way overpriced. So, here's what I settled on.
First, let's look at last week so you can see the basis of where I'm coming from.
I never sold those EXK options, so I didn't add them to the total cost or the profit/profit margin.
This week, we have new contenders and I added my holdover of EXK.
Here's the thinking…
Barrick – bought them last time at $3.15, and was a little hesitant to buy at $3.60, it's why it's orange. RSI is 47. Much cheaper than NEM and I looked at a NEM/Barrick ratio and felt Barrick was the better bang for the buck for a 2 week hold. These are March 18th, and the strike plus the price I paid, I'm more or less pennies away from being profitable.
PAAS – I think they were dinged on the Hochschild Peru news, and I saw price weakness and pounced. Where I had bought these options 2 wks earlier at $3.19 and sold at $4, it seems that they were now on sale for $2.70 and RSI was 46. I have 6 months on them, so if accidents happen short term, I can hold.
EXK – love these guys and had bought originally at $1.65 and held up and back down. Not again. That accounts for 25 of my options above. The top I think was $2.50 or so. This time around I'll hold for a bit or look on a chart to see RSI of the stock. Might be a longer hold as I like the Jan 2023 options. My best "silver miner" when I did my analysis and I might just try to accumulate these and not trade them.
FSM – I did a whole write up on these and these are separate from my FSM play. This is geared purely because I saw an article this morning that was fake news. I understand everyone got dinged today, but FSM was 50% lower than everyone else. So I was wondering if there was news on FSM? I saw this fake news here.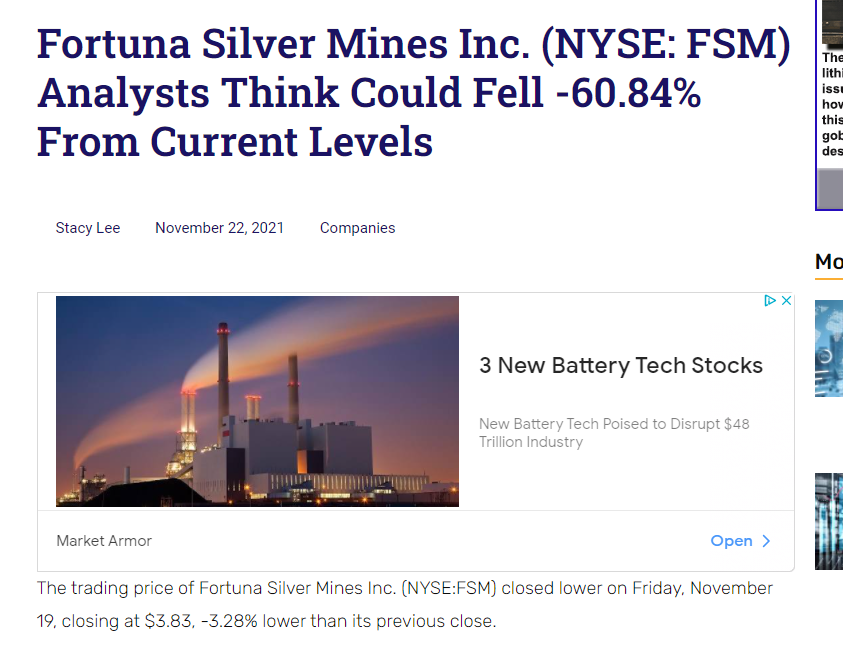 What the hell is this? This looks to be some fake news put out on a site to get crawlers and scrapers to find this headline AS silver is selling off to then use AI and bots to sell. If you are a short, this is ingenius market manipulation at options expiration. If you are a long, you realize they just gave you something at the discount window and you buy. I did. I was going to back the truck up more, but decided I already had a monster nugget on them. This is a short term trade and I got 7 months on these. I think these might be my best performer, and I might hold these a little. Don't know. I might take the 50% and run given what else I have cooking with them.
Yamana gold – I did a deep financial dive on them yesterday as I wanted a more junior gold miner that had size that wasn't Barrick or Agnico or NEM. These guys are the 3rd largest holding in GDX. Low ROI and ROE, but this also had to do with them paying down a lot of debt. I still see debt as an issue with them, but their 4th quarter on their slides look to be extremely high with the revenues with low on the costs. That's a good combination. At a $4 share price, they are friendly to options.
Goal?
I need to see how this plays out. We could go vertical with the price, at which I might look to start selling some of these at RSI 70 for the companies – but it could go nowhere, at which I'll hold until I have a nice move. I might look around mid December to start considering selling and not getting flushed in the next beat down. I'm ok with holding these for a bit but mid December my spidey senses may look to exit stage right.